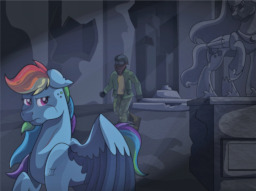 Equestria is suffering.
Princess Luna feels alone, powerless and utterly depressed. In her weakness, she accepts an deceitful Ex-Guard back into her service, one who only wishes to manipulate her for his own gain.
Feelings of loneliness and pain couldn't have come at a worst time though. As things seem bad enough , war is on the horizon, Ponies go missing daily and Celestia invites a strange new race of beings into Equestria. A strange bipedal species from a dying world, who command little trust and carry possibly dangerous motives and desires.
As Equestria witnesses their Princesses fight over lies made and secrets kept, and civil war becomes ever more likely, in a place far away, Rainbow Dash has to survive in a world without friendship, and one bathed in fire and constant death. Her loyalties will be tested, and soon she discovers teaching loyalty and friendship to others is a task far harder than she expected.
Friends will be pit against friends, but will it even matter, when the portals of hell open, and darkness floods the land?
---
Cover art by the amazing Little Tigress
Chapters (49)