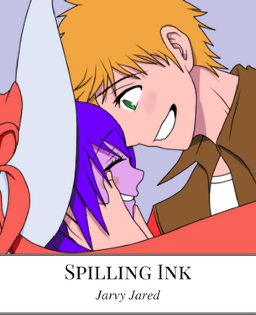 Source
When you have an idea, you do it. When you have an idea for a story, you write it. When Ink Quill has an idea for a romance story, she... can't write it? What's a writer to do when they cannot put pen to paper?
Turn to life and all the strange and wonderful people in it for inspiration and motivation, of course. After all, you can't learn love from a mere book or research study; you have to go out and ask others what they think it is and experience it for yourself. Ink is glad her friends are willing to help, but who's this farmboy who shows up with a boatload of romantic advice? And why is she and her unwritten story drawn inexorably towards him?
One thing's for sure: Ink Quill will learn what it means to love and to be in love.
---
A contribution to the PoME Universe. More information can be found at the link.
For inspiration, motivation, support, critique, and all-in-all for being amazing and incredible people, I have these to thank. Check out their stories, too, while you're at it:
BlueSun52
BRyeMC
Azure_Shadow
Ragga_Muffin (also the maker of the cover art!)
FrostGuardian
Lord Celtic Stoner
Snow Bullet
sunbuttsparkle
PyraFlare Bullet
Tiberius Silverfang
CosmicAlchemist24
DarkMaster0224
SonicRPika
C T Lilly
KillerRobotQuote
... and an additional extension of thanks to all the members of the PoME group, readers and writers alike. You've given me a place to test the waters and my skills as a writer. I've learned a lot and grown a lot since then.
Chapters (44)