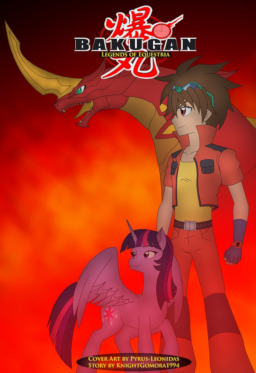 Source
What if instead of a book, The tree of harmony gave Twilight a card with strange symbols on it. She studied the symbols closely wondering what they meant. But it was all very new to her. But when she looked at a small inscription that appeared on the card that said.
"Bakugan Field Open!"
The Mane Six, and Spike were magically pulled into another dimension, where there is no magic, or talking ponies. But they found themselves in the middle of a battlefield. a fight between creatures the humans call... Bakugan.
With no way to get home, they meet a young boy named Dan Kuso, a hot headed but brave brawler, and his newly acquired partner, Pyrus Dragonoid (Drago). They soon meet the rest of his teammates. Runo Misaki, a short tempered but sweet girl, and her partner Haos Tigrerra. Marucho Marukura, a smart and intelligent young boy, and his partner Aquos Preyas. Julie Makimoto, who is like the Brawlers version of Pinkie Pie, happy and joyful, and her partner Subterra Gorem. Shun Kazami, the stealthy ninja of the brawlers, and his partner Ventus Skyress. And Alice, the brightest, and most beautiful member of the Battle Brawlers who is a bit like Fluttershy.
Together, the Battle Brawlers and the ponies must work together to defeat Naga, and his army of darkness. Or else... the worlds they fought for... will be destroyed.
Chapters (31)