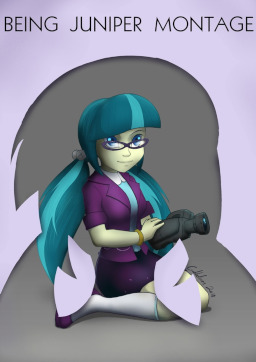 Source

Bookish Delight 50th Story Special

Mere weeks ago, Juniper Montage was a spiteful girl, a thief, and even—for a short time—a magical menace. However, Starlight Glimmer and the Rainbooms managed to reach her, and extend the hands of forgiveness and friendship. Juniper has been grateful for the second chance ever since, and eager to show that she can be a good friend herself.
While touring Canterlot High School with Twilight Sparkle, she comes across two girls in dire cinematic straits. Juniper knows she can help, so she decides to step in. However, in the midst of her attempt, her past—all of her past—returns to haunt her, and her self-esteem pays the price.
Now Juniper must discover for herself what it truly means to be a friend, while also fighting an angry, fearful voice in the back of her mind that continues to insist that she's not worth anyone's friendship... and keeps getting louder.
A follow-up to 2017's Tales of Canterlot High special.
Part of the Montage Cinematic Universe.
Chapters (14)