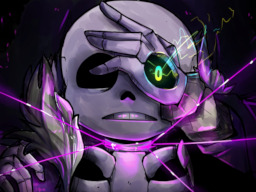 Death was upon his doorstep...
Voices beckoned him in the afterlife...
As he bleeds to his despair...
He still smiles.
Sans could only wait for his death, to rejoin his friends in the ashes the malicious child left in its wake...until salvation came from the unlikeliest of monsters. Sent to another world, Sans was given another chance to live, another chance to finish the job. Strangely enough, his life was turned in for a new change. He meets seven teenage girls, who seem to possess magical properties of their own, and they all go to the one place where Sans would never expect himself to end up in:
School.
Sans' life will never be the same, as he embarks on a new life with his new friends he now calls family.
What was coming after him only made him more DETERMINED than he has ever been before, as the fight for survival begins. With new friends by his side, he now stands on the verge of life and death, where only one will be walking away. Where only one will triumph over the other, where only one will be smiling at the end. One thing's for sure...
"Failure isn't an option."
---
Artwork: RandomColorNice
*Featured: 11/3/17 (Wow. Just...wow)
Chapters (10)