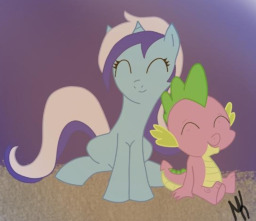 After making a bet with the crusaders that he could get a date with any mare in Ponyville, Spike winds up on a date with a crush from the past. Will everything turn out okay, or will karma catch up with him and turn the date into a disaster?
Knowing Spike, probably the latter.
Collaboration with the amazing FamousLastWords
Submission to Jake The Army Guy's Obscure Shipping Contest
Thanks so much to Pearple Prose, FrontSevens, Enigmatic Otaku, Norm_De_Plume, and Pickleless for editing. Y'all are da real MVPs.
There's no such thing as Minuette X Spike art so thanks for making it happen, Kairipancakes.
Chapters (1)