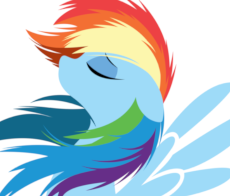 After her friends prank her, Rainbow dash runs away. Yes, she DID prank them too, but making her believe she killed everypony was way too much. After a while she bumps into Soarin. He cheers her up but what the both don't know, is that equestria is in horrible danger.
In this story rainbow dash isn't a wonderbolt.
Special thanks to:
CategoricalGrant
For helping me with my story
And another special thanks to:
Wonderbolt Writer
waspinator331
For the ideas! I'm sorry if I didn't use yours.
Please forgive me for the horrible grammar.
Rated teen because of some violence.
Warning: Contains some bad grammar.BEING EDITED
Chapters (8)