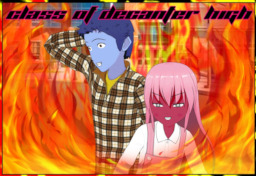 This story is a sequel to The Pony Dreadfuls
---
Charlie and Diane are monsters. Nopony would deny that. One was a murderous adolescent changeling queen, the other an amoral fan-fiction author who once twisted the fate of Equestria itself for his perverse amusement.
That's why they were sent to where there were no ponies. Exiled to an alternate mirror world where they could no longer menace Equestria, the two outcasts must rely on each other to survive in this dirty little world.
---
Note: This story is a graphic novel. That means everything after the first chapter is in the form of comic pages. All images are SFW.
Chapters (9)