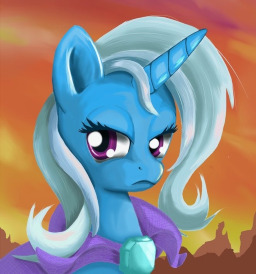 Source
The Great and Powerful Trixie is woken up by the voice of a narrator that's both around her and inside her head. To further annoy her, she can't seem to get rid of him, even though he has nearly lost control of the entire situation.
 
Neither of them are going to have a good time.
---
Rated E for meta-humor, crass banter and self-deprecation.
Cover art by Lukeine on Deviantart.
Pre-read by randome284.
Proofread and edited by Dreams of Ponies.
Chapters (1)