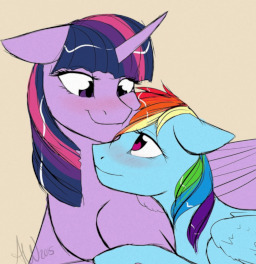 Source
Twilight and Rainbow spend more time together when Twilight realises that she plans certain days of the month to spend with her other friends but hadn't made any arrangements to spend time with rainbow dash. Twilight rearranges all of her schedules to fit Rainbow Dash in for some time.
During this time she starts to derived feelings of more than friendship towards twilight but how will she deal with it? Who will she go to for answers? And how can she tell Twilight how she feels towards her?
All questions that Rainbow Dash asks herself when she reconciles with her feelings towards Twilight.
Chapters (2)