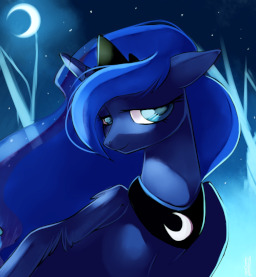 A/N: Thank you all for having this featured three times on FimFiction. It means so much to me, even if it's only featured for short times.
A/N2: Hopefully this will be under review soon, so I can clear any problems up.
A/N3: Now with a sequel! With a Shine in His Eyes
This story is set in a universe without Nightmare Moon, one where Luna has been with her beloved little ponies throughout the ages alongside her sister.
Novalis is a pony with big dreams. A large fan of astronomy and the night sky, his biggest dream comes true when Princess Luna invites him to the castle to personally show him her night sky. Novalis is excited, happy, eager, and... nervous? Novalis got into astrological studies because of his crush on Luna. Can he remain professional, or will he ruin his own chances?
Chapters (19)