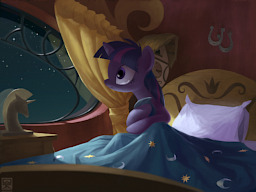 Source
Twilight Sparkle is a troubled pony. She had just made five new friends for the first time in her life, yet she can't find it in herself to be joyous, despite facing down murderous beasts, winning a battle against Nightmare Moon, and helping a long-lost princess reclaim the throne.
Something is keeping Twilight Sparkle up at night.
~~~~~~
[EDIT] To read my Real Episodes series, you can click the link, or find them via the FIMFic group, or my user page or blog posts. Thank you.
Chapter 3 of this story was edited by shadowsreached.
Chapter 4 of this story was edited by Hellpony.
Cover art by Minibot-1. (His DeviantART)
I give my thanks to the wonderful community of FIMFiction, who inspire me without end.
Chapters (4)