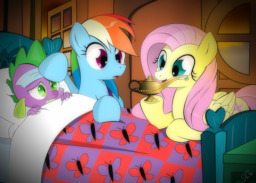 Source
(Collab with yodajax10. Artwork comissioned on Deviantart by dSana for yodajax10 and used with permission.)
Spike comes down with a bad case of Sapphire Flu, and while Twilight is away, she asks Fluttershy and Rainbow Dash to care for him.
An ancient lamp purchased from a trio of mysterious merchants, inspires Fluttershy (with help from Rainbow Dash) to tell a story she heard, a story that takes place in ancient Saddle Arabia.
Amire has traveled to Saddle Arabia in the hope of getting money for her family, but soon she finds herself trapped in a cave with a dusty, old lamp. To her surprise, she discovers that the lamp is no ordinary lamp, it contains three magic genies named Yakko, Wakko, and Dot, who will each grant her one wish.
But unknown to Amire, the magic lamp and the genies within, have caught the eye of the evil Garra, who hopes to use the wishes to become powerful enough to take over not just Saddle Arabia, but all of Equestria!
Chapters (2)