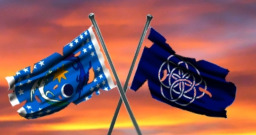 When two worlds of great difference meet, it shall result in either the greatest of unities, or the most horrific of tragedies.
These are tales of such tragedies.
A series of one shots about human-pony interactions that I lack the time and/or creativity to create full fledged stories about. Feel free to get inspired and make one of these ideas work, or point me towards a story that already does.
If you're looking for something happier, check out the sister collection.
Cover art by me, using flag images from google search and put together with gimp.
Chapters (7)