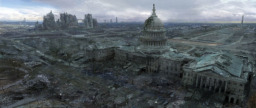 Source
Behind-the-scenes progress: 11.43% (more information here).
For info on the hiatus, see this blog post.
---
The Lone Wanderer. Defender of the Capital Wasteland for 17 years.
He's accomplished many things in that time. He's removed the Enclave from the D.C. area, and taken down numerous other threats. He's activated Project Purity, bringing clean water to all the denizens of the Wasteland. He's almost completely explored the former capital of the United States.
During an exploration of the Arlington Library, however, he comes across something he could never have prepared for: a light blue, rainbow-maned pegasus.
---
I was given permission to remake Rainbow In The Wastes by the original author, re- Punished Yamsmos. Go check out his stories!
This story was in the "Popular Stories" section for most of 5/19/2017, and for that you have my utmost thanks!
Chapters (11)