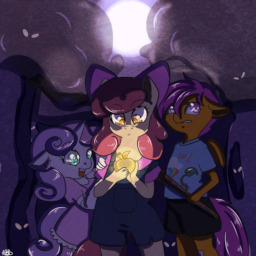 Source
It's a perfectly normal day in Ponyville. Or, actually, except for one, tiny, itsy-bitsy, inconsequential little difference.
Can our heroes save the day from the venerable Scoota-saurus-rex that just so happens to have chosen today to go wreaking havoc across the town? All before their bedtime? And not covered in tree sap?
Well, no promises on that last one. But let's see how well they can do on the first two, hmm?
---
Originally created as an entry to the flashfic 150 challenge. It went over, and then I realised there was a prompt so I set it aside and did something else.

Thanks to Scoots for help with the title.
Chapters (1)