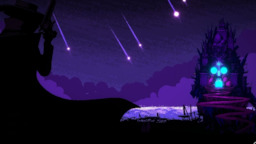 Source
The Gungeon is a mystery to all, which makes it intriguing. Heroes and criminals, the good and bad, are equalized within the Gungeon. Regardless of their status, all of them come to find one legend.
The gun that can kill time. The bullet that rips through memories and imparts new ones. All it would take is a single shot to erase the past and correct the future.
This tells the tale of four Gungeoneers, and their quest to defeat the Gungeon.
---
Enter The Gungeon crossover, if you couldn't tell.
Chapters (2)