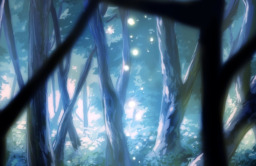 A hag: someone with the power of nature, to use as they see fit. Sacrifice, and deals, power at a price, and more defines them. It is a hard thing to be a hag, and a harder thing to deal with them.
So when one of them, old and only partly wise arrives in a land that has no hags, she is confused. Lost. Upset. She does not know Equestria, and makes assumptions that are not wrong...
But not wrong doesn't mean right. It only means that you might be able to understand how the assumption could be considered correct. So, how will the hag deal with Equestria? A friend? An ally? An enemy? Its doom? Any of the above, willing or unwilling, knowing or not knowing? Everypony has their own opinion. Time to see who is right.
Chapters (33)