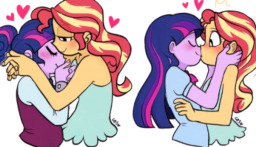 Something silly created by Roseand Blackwater.
Alternate realities mix at Hello Tropics as one pair of Shimmers meets another. The double couple works out the collision of realities and different paths their lives took as they take to the beach and the all-too-familiar island getaway they've all enjoyed over the years.
Meanwhile, children of both pairs get to know each other and share their enjoyment of their childhood paradise. No holds barred!
Legend: sections in 1st person view by Allykitty, sections in 3rd person by BlackWater
Continuity: Homecoming and Twilight Shimmer
Chapters (16)