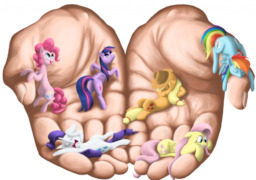 Source
(On hiatus until further notice. Certain people are responsible.)
My name is Brian. I'm an auditor. About two hundred tiny colorful quadrupedal aliens obsessed with friendship have invaded my home. They come in peace, but I can't understand their squeaking, and I'm not sure how many dependents I'm now allowed to list on my tax return.
My name is Princess Twilight Sparkle. When the Cataclysm happened, my entire race had to be moved to another world. A world that's too big for us, with creatures that could step on us without noticing. But we have to make do. We have to survive. I just need to... befriend the Giants. I'm the Princess of Friendship; how hard could it be?
---
Note: The "Sex" tag is for slightly risqué conversations. No overt acts will be present or depicted.
I'd like to call attention to the Tiny Pony group. I love this concept, and I love almost every story in this group.
Chapters (4)