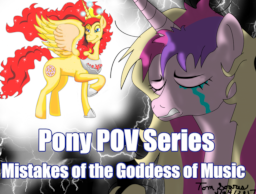 The war between Nature's Law and Nature's Fury is reaching its climax. I, Cadence, Goddess of Harmony, am about to do battle with the avatar of Discord's Father himself. I need to lay all the cards on the table, in case I do not return. This is story of my family, and one member of my family in particular. My Little Brother Best Friend Forever, Morning Star. The Concept of Perfection, and the Devil himself.
Cadenza's tale in the Pony POV Verse.
2017/04/29 MADE IT TO POPULAR STORIES!
Chapters (1)