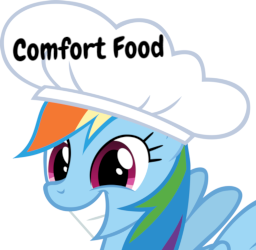 Source
When Rainbow Dash tries to do thoughtful things for other ponies, it generally turns out pear-shaped. Which, of course, is what happens when a pony as unthoughtful as her tries to do such things.
But, hey, what's a bit of a mess when it comes to making food for one's friend? It shouldn't be that much of a bother, right?
Right?
My heartfelt thanks to Door Belle and Garnot, without whom the story would not have been legible (much less enjoyable).
Now with a review on Seattle's Angels! Check it out!
Chapters (1)