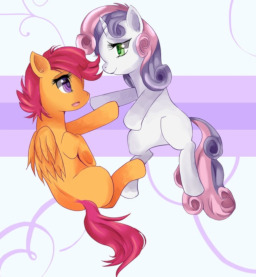 This story is a sequel to A Choice to Make
---
Even before they had become Crusaders, Scootaloo and Sweetie Belle have been best friends ever since they first met as fillies. As they grew older however, they started to develop more feelings for each other than that, but were afraid to admit it to each other.
But when after High School they meet up in Manehattan while both of them are traveling with their families. Will they take a chance and possibly become something more?
---
Cover made by PKlove-chan.
Chapters (1)