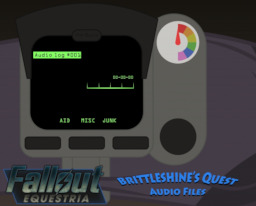 Source
This story is a sequel to Fallout: Equestia – Unscrewed Audio Files
---
By now you have likely heard my sister's tragic story. Mr. DJ Pon-3 elected to call it "Unscrewed Audio Files". I am the Shoeshine from those logs, though as a Canterlot Ghoul I prefer Brittleshine. Pinkie Pie predicted I would meet my sister again, I have hope that it will come true. I have invited Screwy's fiancé, Dr. Stable Rate...who also became a ghoul...and my good friend, and a Hellhound named Grrrar along for the search. We are also joined by a lecherous, Moonskull, Sargent named Dancing Doll. We will document our adventure like Screwloose did, in a series of audio logs that I will send to DJ Pon3 to play over the radio. We will find my sister.
---
This fic is canon with the events of Unscrewed and reading that fic is nessisary to get the context of this one, but can still be enjoyed if the first fic is not read.
This story is also canon toGamma Deekay's andDigital Ink (AKA Sawyer)'s series of connected fics, but only in that it shares the same shared universe.
Also it does reference EAST Corp Productions' various audio dramas, but without their permission so anything I do in the fic is not canon with their works.
---
The fics that are the sequels are out: Hold the Pineapple and Find Your Spark
Chapters (25)