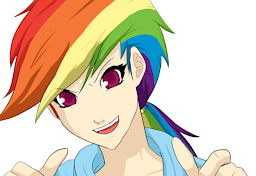 Source
-Officially stopped progress-
This is a humanized fic, but it isn't clop, so yeah.
The old chapters are now updated! Working on new content. Couldn't have done this without the help of DrReinmann, my editor.
Rainbow Dash mysteriously appears in the bedroom of average teen guy Leon Miller, a good ol boy from Oklahoma. This is the story of how she copes without her friends, and how she meets new ones. Oneshotting, so I can't state much more than that.This is planned to be full length.
Chapters (7)