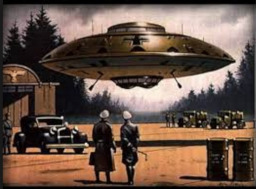 While Europe sinks into bloody war and the powers of Nazi Germany dominate the continent, a new dark power begins to rise that could destroy them all.
The Nightmare is returning. And all will bow before her glorious night.
Editors: Tek, Mitch H, Cerulean Blue
Photo Credit: Russian documentary on the Nazi saucers in Antarctica.
Nazis and alicorns and rockets, oh my.
Chapters (21)