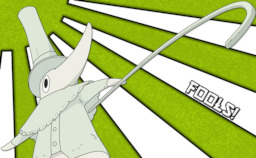 Tirek has taken over. In a last ditch attempt to save Equestria, Twilight and her friends have opened the box Celestia provided. They find within it the legendary sword of ultimate heroic power, Excalibur.
Too bad the sword won't stop rambling on about his legend.
A loose Soul Eater crossover. No prior knowledge of the series is needed for understanding, as even one who has watched the anime will have no idea what's going on either.
Chapters (1)