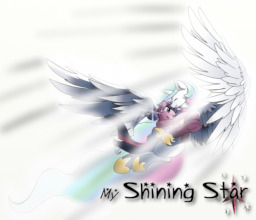 Ponies have asked Princess Celestia one question above all others over the generations. It has taken many forms, many directions, but the true question is always the same. "What does a Goddess fear?" It is not a question any of them expect to truly be answered, and none thus far have understood her answer.
She is Princess Celestia Arc De La Equestria, The Undimmed Monarch of Equestria, and she only fears three things.
She fears each day for the safety and happiness of her little ponies. She fears for the loss of those she loves, consumed by time's eternal march. Most of all, she fears a small purple unicorn. Brilliant as her own sun, curious, inquisitive, and bearing a charisma to rise all Equestria to her side. A mare that Celestia fears accepting as much if not more than denying. A mare that was standing outside the door to Celestia's private chambers, with a question upon her lips that could topple an empire.
---
This story takes place in the down time between season 1 and 2. As such Twilight Sparkle is not yet an alicorn and has only been living in ponyville for roughly a year.
---
Co-Written by:
* Chosen Heart
Cover Art:
Once more by the lovey and super awesome Manifest Harmony


Editors:
* Fuzzy Fabricator
Contains:
Cuddles, Cuteness, romance, no sex
Chapters (1)