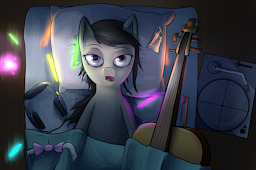 Source
Octavia has had enough. An insidious plague of tacky, hacked together electronic noise is spreading over Equestria, crushing culture and good taste as it passes. Well, at any rate it's really loud and annoying and the guy upstairs just won't turn the freakin' volume down.
Desperate to show the citizens of Canterlot the error of their ways, 'Tavi decides the only way to defeat electronica is from within. But for that, she must, y'know, actually be 'within'. And that means learning a few new instruments.
Oh yeah, and Lyra 'helps' about as much as she usually does.
--------
Cover art by Dazko
Chapters (3)