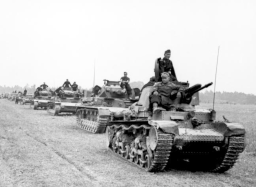 (EDIT: I'm putting this story on Hiatus because I'm gonna lose my Chromebook to the school, and I won't be able to write any more chapters, once I get my own computer, THEN I will Un-Hiatus it and continue writing chapters. Don't worry, As a true Ger-Mane Brony I WON'T forget about this story, I promise)
A general and his crew with their Tiger II, lead a convoy of: a Tiger H, a Pak 44, a Puma armoured car, an Opel Blitz, a Wirbelwind AAA tank, a Panther D, and a hostage M4A3E2 Jumbo (American Heavy Tank).
They had to retreat to a mountain range covered in snow after a fierce battle in Belarus. Whilst the general and his convoy, work together to find and regroup in this snowy wasteland.
Then they are hit with something strange, and unknown, and are somehow transported to a strange land of colors, which, is otherwise known as Equestria, which seems to inhabit small, colorful horses.
No one knows how they got there, but they're just... here somehow?
As a German WWII nation of war will they be able to keep peace with the Equestrians? Or will the ponies not accept them, and try to fight?
And if peace is to come then how will this convoy come back home?
We'll only see...
The Mane 6 will not be happy campers when they find these guys.
(First story as a non-writer, so commentary on problems is highly appreciated)
Gore Tag because of death and blood, don't worry there's no super descriptive death, usually at the most, descriptions of wounds, but nothing TOO descriptive.
Other Main Characters: Spike, Starlight Glimmer, Griffons, Royal Guard, Wonderbolts, CMC, and Changelings
Chapters (12)