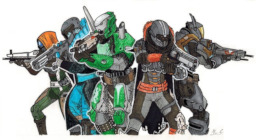 Source
Destiny/MLP crossover (SET IN DESTINY ONE)
Cover art was drawn by Never_Comfortable
Lotus Moon has done a reading for this story that you can find here!
Now with its own group! Click here to have a look. I will be updating it with chapter progression updates regularly.
Featured some time between the 5th and 12th of August. Thank you to everyone that helped push the story far enough for it to be featured!
Fireteam Odium are sent on a fairly simple sounding mission, only for it to end in disaster. They are thrown into a world that they do not understand, and must now make a decision. Protect the ponies, or work on getting home.
---
If this story seems dead, please bear with me. I promised I would finish this, and I am keeping to that promise. There may be month delays, but chapter will still come out until we have reached the end. Thank you to everyone that has been patient with me.

Rated Teen for swearing and violence. Tags will be added as they are needed.
Chapters (28)