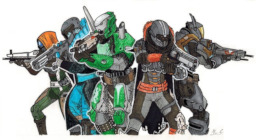 Source
Destiny/MLP crossover (SET IN DESTINY ONE, ALTERNATE UNIVERSE TO IN GAME)
PLEASE READ THIS BEFORE GOING ON: This story has a few lore issues that have been brought to my attention. When I started on this story I had little knowledge on Destiny lore. I may go back in an rewrite portions of it, but until that happens please bear with the younger Echo
Fireteam Odium are sent on a fairly simple sounding mission, only for it to end in disaster. They are thrown into a world that they do not understand, and must now make a decision. Protect the ponies, or work on getting home.
Cover art was drawn by Never_Comfortable
Lotus Moon has done a reading for this story that you can find here!
Rated Teen for swearing and violence.
Chapters (30)