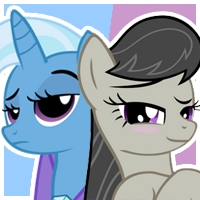 If you had a choice, would you switch bodies with your best-friend?
Octavia and Trixie didn't even have a choice.
After a night on the town to get away from their stressful daily lives, Trixie and Octavia wake up the next day to be astounded by what they saw; that they had switched bodies over night! When they realize that they won't be able to switch back before several important events in their lives, how will they adapt to being each other? Will Octavia be able to learn enough magic to woo a crowd? Will Trixie be able to play the Cello well enough to not ruin Octavia's lifetime of work? Read and find out!
Author's note: Artwork by: http://johnkapid.deviantart.com/
This story was inspired by the movie "The Change-Up". Title credit goes to Klondike Pony!
Chapters (13)