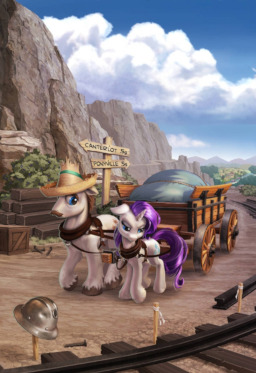 Source
Rarity's finally managed to start on the path to recognition and as the teenager sees it, that road goes directly into Canterlot. She has goods, a potential sales pitch, and a space reserved at the city's biggest fashion trade show. All she needs to do now is set up her booth and wait for somepony to Discover her.
The discoveries you make aren't necessarily the ones you were looking for.
(Part of the Triptych Continuum, which has its own TVTropes page and FIMFiction group: new members and trope edits are welcome.)
Now with author Patreon and Ko-Fi pages.
Cover art by Harwick. Please contact him for commission rates.
Chapters (1)