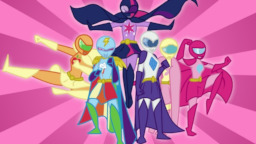 Far from the war with Conquest, far from the strife and struggles of Starfleet, and far from home, Sunset Shimmer awaits the end of Summer and the beginning of her senior year. Her friends are all waiting to finish their days of school and begin their lives as adults.
However, a dark cloud hangs over the rise of their futures. A being seeks to corrupt and change all that the heroes of the world have fought for. He seeks to destory the world and devimate the lives of all that Sunset has come to love.
She will face war and strife, love and loss, on this...her final adventure.
A crossover with Power Rangers, Digimon, and Yu-Gi-Oh.
Chapters (8)