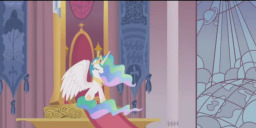 Source
Many moons ago, before Twilight Sparkle was Princess Celestia's pupil, there was another student, Sunset Shimmer. She left long before Twilight was able to go on and make several friends and save Equestria time after time. This is the last conversation Sunset had with her teacher.
Ignores IDW comic backstory involving Sunset Shimmer.
Edited by Brock Lesnar. Thanks for the help!
Chapters (1)