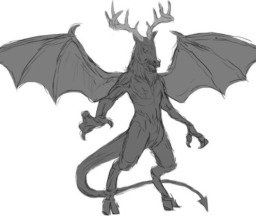 "Hello all you monkeys! Or humans, if ya wanna get technical r'whatevah, names J.D. or da Jersey Devil. So apparently I'm no longa in Jersey and am now stuck in some pink 'n pretty woild wit ponies who think I'm'a monster and want'a eat'em, and let me clarify dis ain't a diary 'r nothin', is'a journal, I ain't no Sissy Mary. Anyways, if yer readin' it, I'm either dead or yer snoopin', and FYI, I eat snoopers fer breakfast bro. On the off chance I am dead, then feel free to read my trials and my awesome adventures bro."
---
Warning: contains strong written, thick Jersey accent, strong language, and Jersey stereotyping.
Picture does not belong to me, nor does the Jersey Devil or the lore behind it. Story and concept belong entirely to me though.
Chapters (3)