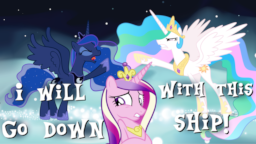 What can you do on Hearts and Hooves Day if you're a single immortal alicorn? Spy on Equestria and discuss relationships of course! Princess Celestia and Princess Luna have invited Princess Cadence into their annual event where they plead the case for their ideal pairings of the ponies we know and love; hoping the Princess of Love will have some refreshing insight on the matter. Who is YOUR OTP and how does it stack up?
This piece was created as an entry for "Scribblefest" hosted by Everfree Northwest 2017. I've never entered a pony writing contest before so I thought this year I would give it a shot!
To any fanfic readers out there: please ask before you use any of my stories for audio adaptations. Initial rights to this story go to TheLostNarrator in terms of audio productions :) thanks!
Chapters (1)