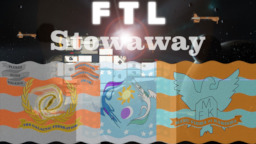 The galaxy is in peril. The Galactic Federation is on the verge of being destroyed by the human supremacist Rebels, and their last hope is Captain Chris Malott and the crew of The Kestrel.
While fleeing the Rebel Fleet, the crew investigates a planet with signs of intelligent life, obtaining help in a way they never would've expected.
With the help of their newfound allies, can Captain Malott and his crew save the Federation? Or is the Milky Way Galaxy doomed to be oppressed by the Rebels and their hatred for anything not human?
---
Extremely special thanks to GIULIO for helping me with editing! This fic would still be as stiff as sandpaper without your help!
EDIT: GIULIO has been promoted to the rank of coauthor! This should make the fic better than before, as well as make it easier to crank out chapters!
---
3/1/2017, 5:45 PM MST: In the popular box already?

Wow! Sure, it's not exactly Featured, but it's a close second! I'll take it!

Chapters (6)