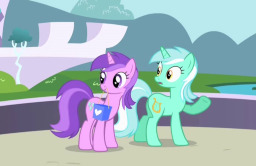 This story is a sequel to Equestrian Fanfiction
---
Two months after the launch of the Midnight Castle fan fiction site, Lyra and her fellow Nightlings have organized a meet-up in Canterlot. The agenda is simple: have fun, discuss their favorite human fiction series, and see the faces behind the usernames.
Special thanks to RK_Striker_JK_5 for editing.
This story is linked to the daily Equestrian Fanfiction (and contains reveals as to the participants' identities).
Chapters (7)