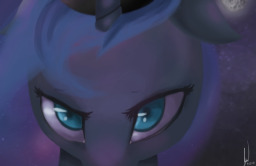 Source
This story is a sequel to Blinking
---
Twilight Sparkle emerges from the grasp of a horrific spell disguised as a teleportation spell to find herself dazed at Luna's birthday party. While she is not ready for the cake upon her reappearance, Luna is ready for just dessert.
---
I thoroughly enjoyed ocalhoun's Blink and lumberjack's sequel Blinking. I was, however, inspired to write a sequel. I'm a stickler for closure.
---
Muchas gracias to the dobermans for their encouragement, plot suggestions, super stylistic sniffer, and the link to the cover artwork, which he also suggested.
Another heap of thanks to Lekmet for volunteering to preread!
And many thanks to The Chill Dude for prereading and your perspective!
Chapters (1)