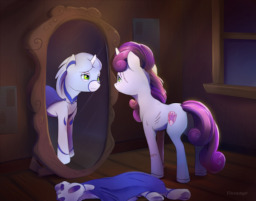 A little over a year has passed since the fateful night that Sweetie Belle disappeared. Her friends and family searched frantically for her, trying desperately to find any clue as to what might have happened, but it was all in vain. None of them could find her and over time, some of them even started to lose hope.
However, when an uncontrollable storm whips itself to life in the middle of the night, all of that changes. Sweetie Belle is discovered amidst the storm, dying and alone in a dark Ponyville alleyway. Covered in scars and emotionally distant, her friends fear that she may never heal and return to being the pony she once was. Instead, both they and her must now come to terms with the world that lies before them, a world that has been carved into place by her very hooves. The future looks bleak at times, but Sweetie Belle knows that she must press on. For better or worse.
---
This story was inspired by the superhero shows Arrow and Flash on CW.
Cover art drawn by viwrastupr, commissioned by me.
Edited by TrippNessa.
---
This story was started back during season 5, before Starlight Glimmer became a main character, so despite taking place in the future, she will not be in it.
Chapters (2)