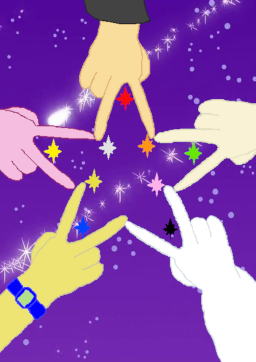 The universe has fallen into the crutches  of the Jark Matter Shogunate and the inhabitants cry out in sorrow. the last planet yet to be conquered, Earth. Jark Matters power has proven to be greater than the magical power of friendship blessed to 7 young girls. With the threat of the universe being trapped in the clutches of evil the earth has one last chance to fight...
Teenagers with attitude
Given the power of the stars, nine heroes make the last stand to free all 88 star systems. the rebellion has started among the cosmos, with a little luck and the power of friendship this team of unlikely heroes will become the shining stars everyone will look upon and give hope to.  
Our Friendship will take on the universe, KITA!
(Crossover of Uchuu sentai Kyuranger)
Chapters (11)