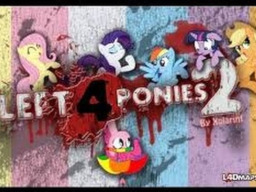 First off, Dusky hates everything, mostly dolls though. Anyway, I ever tell you about that time when me and crimsonpit stared into each others eyes for about five hours? It was a intense time. It was so-
Four Fanfic Readers make their way through Manehatten, boomsticks and pointy sticks at the ready. However, whenever ponies who read fanfics group up to fight zombies, things will get crazy.
Contains anthro ponies, light gore, and chaos.
Chapters (1)