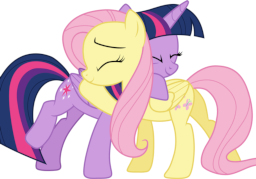 Source
The day they had met, Fluttershy began to love, and that love was directed, growing ever-stronger, towards the soon-to-be Princess Twilight Sparkle. She long put off her confession, yet constantly reassured and encouraged to tell Twilight her feelings through the promise of being together with the mare of her dreams forever.
Fortunately, today Twilight is getting married.
Unfortunately, it is to a different pegasus, and Fluttershy can only stand back and watch with a broken heart as Twilight's Best Mare, with Twilight still not knowing what her feelings were- and never finding out.
My inspiration came from the fic Twin Desires: The Tale of Two Ponies Who Want Twilight by StormLuna, but more from seeing the like-dislike ratio and seeing the comment section beneath it. Now, I'm not going to berate StormLuna for the negative opinion toward a certain pairing... but I AM going to try and set some angered fans of said pairing at ease by presenting this as a somewhat better second take- a better "Wahtiff" scenario, hopefully.
Chapters (2)