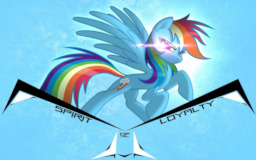 This story is a sequel to The First Pony to Time Travel Without a Spell
---
Rainbow Dash has become an alicorn Princess, but there's still so much that she needs to do. A cutie-mark-removing unicorn, out of control vines that even Discord can't stop, and a power-hungry centaur are just the start. Plus, a certain entity just doesn't seem to leave no matter what...
Starlight Glimmer is Rainbow's friend, and Rainbow gave her a promise. She needs to stop her world's Starlight from going down the same path of revenge as her friend. But it's hard to explain this to somepony that you see in so many different lights. Especially since her world's Starlight doesn't believe in the multiverse.
And Discord is going to be in so much trouble by the time this is all done.
---
"Twilight, for the third time, I'm sorry I stole your alicorn-ness! ... What do you mean you don't mind? Then why have you been complaining about it?!?"
---
This is the third story in the Shadow-Dashverse. Reading the previous two stories are highly recommended for better comprehension.
Chapters (10)