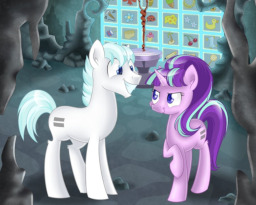 An origin story of Our Town. Double Diamond is a pony from the city who heads out to the Equestrian hinterlands for a day of skiing. After getting into a skiing accident and injuring himself, Starlight Glimmer takes him to her house nearby to treat his injuries. During his time as her guest, Double Diamond and Starlight talk.
By the end of his stay, Diamond will become Starlight's first follower in the ideology of Equality, and Our Town is born.
Note on story genre: This story itself isn't sad, but you if you've watched The Cutie Map you'll know how it ends. Cover art by swanlullaby, used with permission.
Day 3 of my Self-Imposed 28 Fics in 28 Days Challenge
Chapters (2)