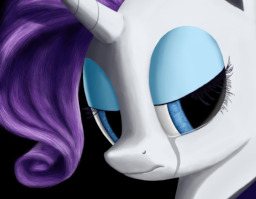 Source
(If the artist doesn't want me to use this image, please, let me know[OneShot])
Jeremy had always treated his lover, Rarity, like the princess she was.
Or rather, he used to.
One day, Jeremy finds out, through Rarity herself, that she's been doing things behind his back. His reaction? Not-to-subtle anger.
But the question is: will he get his revenge? And more importantly, how far will he go?
Hopefully he won't go too far.
---
So yeah. I decided to write a second person, romance/drama story. Who'da thought, huh?
Anyway, I hope you enjoy reading this. I kinda wrote this on a whim when the mentioned song played on Pandora. And it reminded of the time I had a girlfriend. This story is similar to mine, just without singing; I have a god-awful voice. And this is the first time I write in second person! Yay!
Chapters (2)