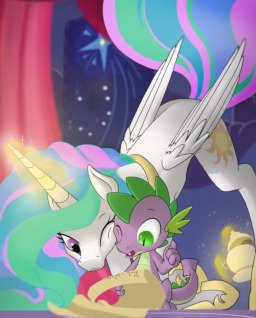 During Lesson Zero, Spike warned Celestia of Twilight's impending breakdown. What if Spike did this during the course of many episodes, with Celestia valuing his input?
Sometimes, however, it backfires on the both of them, as in the case of A Canterlot Wedding. Afterwards, Celestia has a heartfelt chat with Spike.
First two chapters are letters being traded back and forth with one actual scene. Family Celestia and Spike, Momlestia. Cover art by JAEneth, used with permission.
Day 2 of my Self-Imposed 28 Fics in 28 Days Challenge
Chapters (3)