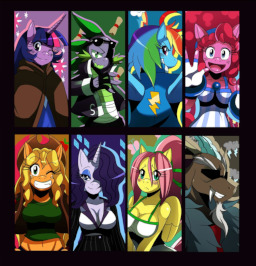 Wrath, Pride, Envy, Lust, Gluttony, Sloth, and Greed. These are The Seven Deadly Sins, ancient beings that use to rule over the lands of Equestria until two Alicorn sisters banished them from existence. Instead of being banished however, The Sins used the last of their energy to transport their essence to seven souls that have not been born yet, and so they laid dormant building up their strength and watched as the souls grew up. The Sins would smile at who the fates had put them in and how much fun that they'll have when their family is back together in this new age of Equestria. But who were they transported to?
Spike, a dragon of purple and green scales was born and raised into Equestria and lives differently then others of his kind. He is humble and only lives by the bare essentials. Sometimes.
Twilight, the lavender Alicorn Princess of Friendship and Element of Magic. Gifted in the fields of arcane magic and a student of Celestia. She never has been angered to the point of hurting others. Sometimes.
Rarity, a beautiful white unicorn and Element of Generosity. A truly talented seamtress with a knack for finding gems. She owns her own business even, and is contend on what she has and doesn't wish for other's lives as her own. Sometimes.
Applejack, an orange pony and Element of Honesty. Hardest worker in Sweet Apple Acres and does her best to be truthfully to herself, her family, and her friends. She isn't afraid to ask for help if needed though. Sometimes.
Pinkie Pie, a very pink pony and Element of Laughter. Works at Sugercube Corner and loves to put a smile on your face. She is willing to share what treats she makes with anyone. Sometimes.
Rainbow Dash, a cyan pegasus and the Element of Loyalty. Fastest flyer in Equastria and captain of the Wonderbolts. She will give it her all to save her friends and won't stop till they're safe. Sometimes.
Fluttershy, a yellow pegasus and Element of Kindness. Kind-hearted, gentle voice, soft hands and loves all creatures big and small. She is shy and loves everybody equally and would never take advantage of that. Sometimes.
I think its time we introduce ourselves.
---
The following is a non-profit fanfiction, My Little Pony: Friendship is Magic is owned by Lauren Faust and Hasbro. Please support the official release.
Chapters (2)