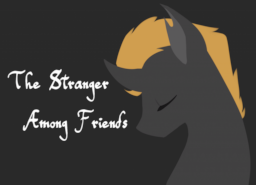 This story is a sequel to The Unicorn and the Stranger
---
Changelings have lived in Equestria for a long time, and have survived by staying hidden and keeping their existence a secret.
Driftwood of Portside, a changeling long residing there in disguise, broke that cardinal rule of secrecy when he met Rarity of Ponyville. When the Royal Guard discovered him, her intervention change his fate, sending him towards Ponyville by way of Hoofington rather than to Canterlot, as her involvement would mean that Princess Twilight Sparkle would be personally interested.
Driftwood is not a pony, and Equestrian law does not have provisions or allowances for changelings. He is a stranger in unknown country, and his fate is beyond his control, resting squarely with those who may have no reason to care what becomes of him.
---
Cover art has once again been provided by goshhhh.
Chapters (10)